Posted on
By King Non Chalantly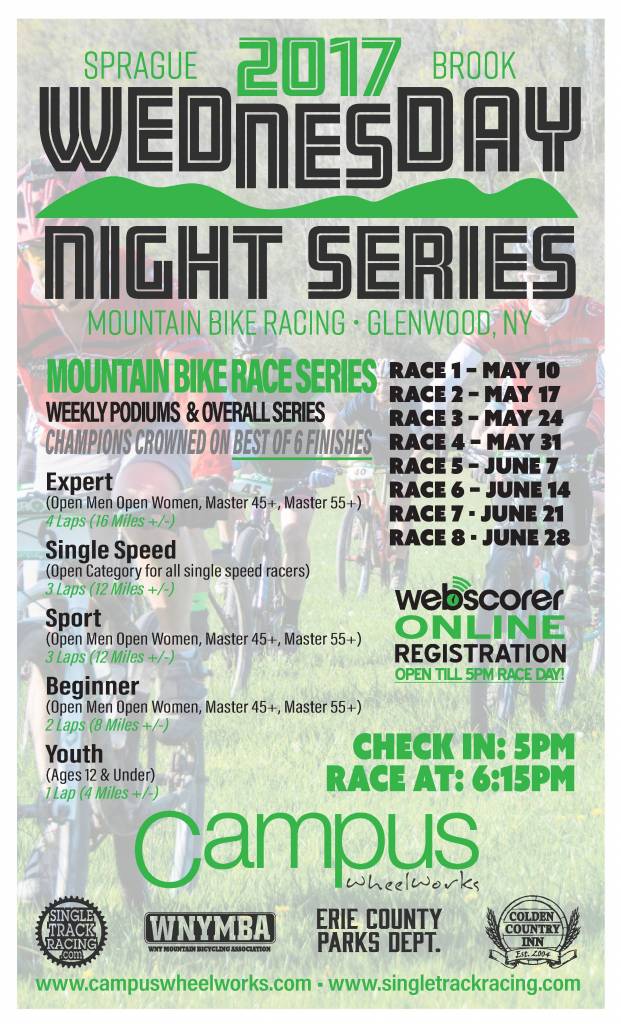 Our yearly Mountain bike series is back and better than ever.
Mountain Bike Racing is great way to experience mountain
biking in a welcoming community with marked trails!
Our Wednesday night series is coming in less than 2 weeks!
8 weeks May 10th-June 28th

May 10th the fun begins...
Register at https://www.webscorer.com
RACE DETAILS:

The race fee is $20 per race or $130 for the series (On-Line Only) Online registration will remain open until 5:00pm race day. All waivers, racer info and money transactions are now taken care of through our registration website. Racers will need to check in at the registration tent prior to each race!

Cost per Race: $20.00 (1 Race & Race Plate)

Entire Series: $130.00 (8 Races + *Limited Edition Shirt & Race Plate) *$30 Savings
* Pay for the entire series up front for a sweet discount and a limited edition 2017 Race Shirt.

*Youth 16 & Under: Use discount code "16andunder" and save 50% off this Race!

Race Check In: 5pm – 6:00 (All riders must check-in for every race. This registers you for the day so your results and times are recorded accurately. Help us help you.)

Race Start: 6:15pm Prompt (Pre-race rider meeting at 6:10 for latest course changes, updates and reminders)


AGE GROUPS AND CLASSES:

Junior (12 & Under) 1 Lap of our ~4 mile course
Beginner (Open Men, Open Women) 2 Laps of our ~4 mile course
Sport (Open Men, Open Women, Masters 45+, Masters 55+) 3 Laps of our ~4 mile course
Expert (Open Men, Open Women, Masters 45+, Masters 55+) 4 Laps of our ~4 mile course
Single Speed Open 3 Laps of our ~4 mile course

Stick around after the race for weekly podium pics! Series awards will be awarded after the final race of the series on June 28th at Colden Country Inn.

#racethebrook